If you are using a Mac, you can manage your mail through the Mac based email application Mail; this application is also known as "Mac Mail".
Select the 'Mail' menu.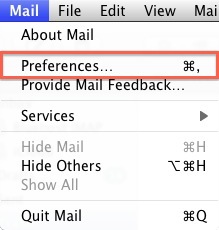 Select Preferences.
Click on the Accounts tab.
On the Accounts window, click the + sign.

You will be presented with the Add Account Wizard.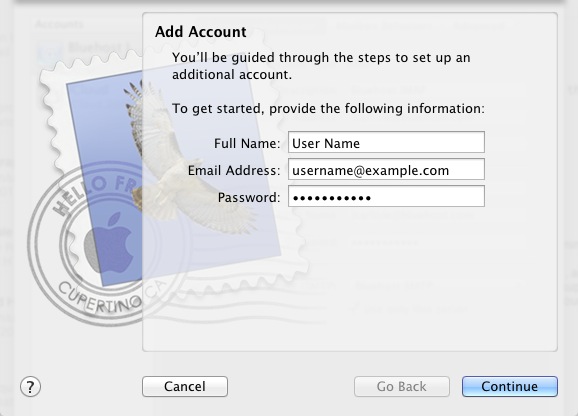 Please enter your name, as you want it to appear on your outbound E-mail messages.
Please type your E-mail address.
Enter your E-mail password.
Click the Next button.
Now, you will see this screen.
Please choose your account type. You may select either POP or IMAP. Click here for an explanation on the differences between POP3 and IMAP.
Give this account a description for quick reference.
Please enter mail. followed by your domain name as the Incoming and Outgoing mail server.
Enter your E-mail password.
Click Next.

Now you will see a screen asking for the Outgoing Server information.

Please give your Outgoing Mail Server a description.
The Outgoing Mail Server is the same as your incoming mail server. Again, this will be something like mail.example.com
Be sure that the Use Authentication box is checked.
Enter your E-mail address for the User Name.
Please type in your E-mail password.
Click the Next button.

You will be presented with a confirmation screen with your settings. If everything is correct, press the Create button.